As tributes pour in for Steve Jobs from the tech world and international dignitaries, many green groups and animal right organization will also remember the Apple co-founder for his compassion to animals and influential efforts for the environment. Not only did he lead a noble example of kindness with his veg lifestyle, Steve's also highly appreciated for many heartwarming pro-animal animations produced by Pixar, the artistic powerhouse that he founded. Other than all the tech legacies he left behind which have forever transformed many's way of life, how best to remember this creative genius and visionary? Let's share the thoughts from another veg elite:
Dear Friends at my beloved Apple,
I will save all the plain language here at this sad moment. In short - what's common among Steve, Einstein, Leonardo, Jesus, and Buddha? They are all vegetarians! In my humble opinion, the best way to remember Steve is to follow his brilliant example of living a noble life - to make others' life happier and better, including our beloved animal friends who share our precious planet.
May God bless his beautiful soul in heaven!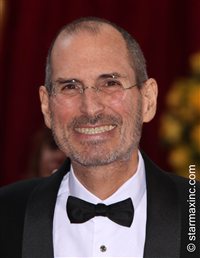 http://www.peta.org/b/thepetafiles/archive/2011/10/05/remembering-steve-jobs.aspx